Converting a Purchase Order to a Receiving
Purpose:
After you add the model numbers and issued them to your customers then you need to enter the 'Expected Date'.


Click on the three dots to the left of 'Expected Date' and a calendar will appear. Expect the date that the main delivery of this Purchase Order will arrive at your store. Some Models on your Purchase Order will be Back-Ordered many will not. Instead of going to each model number on the Purchase Order telling each model the date the product will be here, just enter it here once. If a model number has not been backordered then the sales staff will see this date on their customer order as ETA Thursday, 23 Feb 2006.
Last step is to convert a Purchase Order to a Receiving. Click on the toolbar 'Cnvrt'


Click on 'Yes' to continue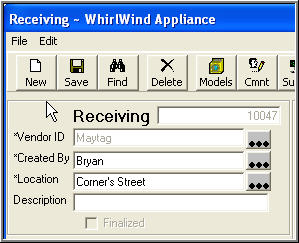 You will be returned to the main Purchase Order Screen and the Type will now say 'Receiving' instead of 'PO'
Now you have Created a Purchase Order, Added the Model Numbers, Entered you Cost and Backorders Date, Issued to the Customer Orders, and last Converted it to a Receiving.
Click on 'Done' in the bottom left of the screen