Create a Customer Quote with Customer Information Last
When you have collected the list of Model Numbers your customer wants quoted and now is the time to find official quote prices and additional information such as spec sheets or feature sheets and enter them into the computer, the last thing that I ever wanted was to have my customer come to my workstation to collect their information and then wait for me at the counter watching me collect all the previous mentioned information. What I liked to do was invite the customer to browse around the sales floor while I go collect the information. This required the computer program to allow me to enter a customer quote without a customer, add all the model numbers all the comments, and get the additional information. Then I would invite the customer to come to the sales counter, and collect and enter the customer information for the quote then quickly print the quote and give this to the customer.
You must 'Create a New Quote' when asked to Select a Customer screen appears, Click on 'Continue Quote w/o Customer Info' on the bottom left of this screen.

As the screen says you can enter a Name if you collected it during your sales presentation or if all you can think of is 'Lady with Red Hat' that will work at this time. Click on 'OK'
The next screen to appear will be asking for addresses click on 'OK' to continue.
Enter your Model Numbers and all the other information you want to add.
When you invite your customer to come to your sales counter then click on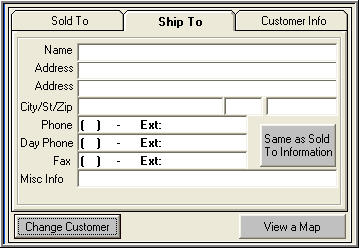 'Change Customer' It will return you to the 'Select a Customer' screen and you can enter your customer information at this time.