Print a Customer Quote
From the Customer Quote Main Screen you can click on the Toolbar 'Print' or at the bottom left of the screen on the button 'Print'. This next Screen will appear:

This section allows you to print without the Sub-Total, Tax, or Total. Click on 'Un-Mark ALL' for quickness. This feature is great when you have quoted Three Sub-Zero refrigerators and you do not want your customer to look at the Sub Total and be shocked by the amount.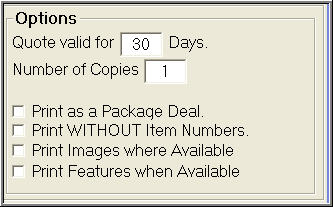 'Quote valid for 30 days.' you can change the number of days that will print to the customers copy.
Number of Copies is for the Priner
'Print as a Package Deal' will print in the Sold and Extended amount 'Package' 'Deal' therefore you customer will not be able to go cherry pick your quote.
'Print WITHOUT Item Numbers' does not print model numbers. This feature does need to be used with care it can back fire on you easily
'Print Images where Available' If you store images of the product on the setup card you can print a picture.
'Print Features when Available' If you store a long description on the setup card you can print the long description.
The next section will list the printers available to you. Select the printer then click on 'OK' to print or 'Cancel' not to print.