Issue and Un-Issue Model Numbers from a Purchase Order
Purpose:
To allow users to quickly assign inventory from a Purchase Order to specific Customer Orders so that when the product comes in the door it will be allocated to the correct Customer Order.
Find the Purchase Order or Receiving. Then click on the Toolbar 'Models'. You will then see the Model Numbers that are currently on the Purchase Order. You need to See Explanation of View by Summary or Detailed format on a Purchase Order to understand why you need to view the model screen in 'View Detailed'. Once you have the screen in 'View Detailed' mode you will see the following;

notice three 'AKS3050SS' have been ordered. One is for ABC Construction and another for Anderson, Bill. If we want to give this to a customer that we know needs then we take the mouse and on the far left click on 'Issue' on the Model Number that is not issued already. This next screen that appears is the screen that shows us all the Customer Orders that have this Model Number on them.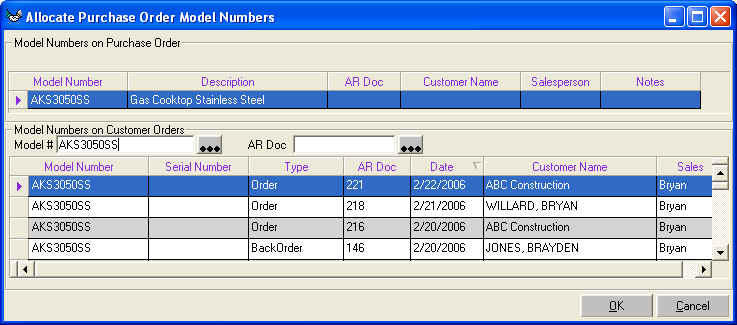 Find the Customer Order you want to Issue this Model Number by changing the Model Number or AR Doc. Select the Model on Customer Order by clicking on the Record Selector then click on 'OK'
You will then be asked the following

If the Model Number is the same or different you will be prompted to answer 'Yes' or 'No'. Click on 'Yes' to continue
Notice that the name 'Willard, Bryan' with Order Number '100280' is how issued.
To Un-Issue a Model Number from a Customer Order Click on the green 'Un-Issue' You will be asked this question
click 'Yes' to continue. You will then be prompted to answer the following
If you want your Purchasing Agent to know that we need to reorder this Model Number then click 'Yes'. If you click 'No' then nothing will trigger or happen for a next stage.
Notice the Model Number is now blank meaning that it is for stock.