View the Notes about the Order that have been created by the WhirlWind system
Purpose:
To main Reasons for this.
First on is to help you stay organized by creating notes when you make changes or add to delivery board and other tasks that you just do on the Customer Quote/Order. A great example how this might help. A Customer came into the store in the spring. She was building a large customer home it took fourteen months to build. When we delivered the product to her fourteen months later the total bill was about $24,000.00. She called upset, said she had the original order in her hand with a total of $22,000.00 and that she was not paying $24,000.00. The salesperson said 'OK' let me look at why. He then found the Customer Order in the computer and looked at notes. In the notes it stated something like this:

Edited Model VGRC364BSS Viking, 36" Professional Range
Item ID Changed From VGRC364BSS to VGRC4864BSS Description Changed From Viking, 36" Professional Range to Viking, 48" Professional Range
Edited Model VGRC4864BSS Viking, 48" Professional Range
Sell Amount Changed From $3,999.00 to $5,999.00 on Wednesday, July 22 11:30am Logged in as Who Ever
The salesperson was able to tell the customer that she had changed from a 36" range to a 48" range on Wednesday, july 22 at 11:30am. She said "That's right" I will pay the $24,000.00. The salesperson looked, to the Customer, very organized and professional.
How To:
Find your Order then on the toolbar click on 'Notes':


This Screen will appear will all your important information:

Second Improves communication from one sales person to another and helps customer service. Lets say we have two sales people called Fred and Sally. Sally is off on Tuesday and Fred is off on Wednesday, Therefore there are two days that they do not see each other that the store is open. If Fred takes a call for Sally's customer that they need specs. Fred would Find the Customer Order then click on toolbar click on 'Notes'
then you will see the main screen shown above. Click on 'Enter a New Comment':


This screen will appear letting you enter the information to tell Sally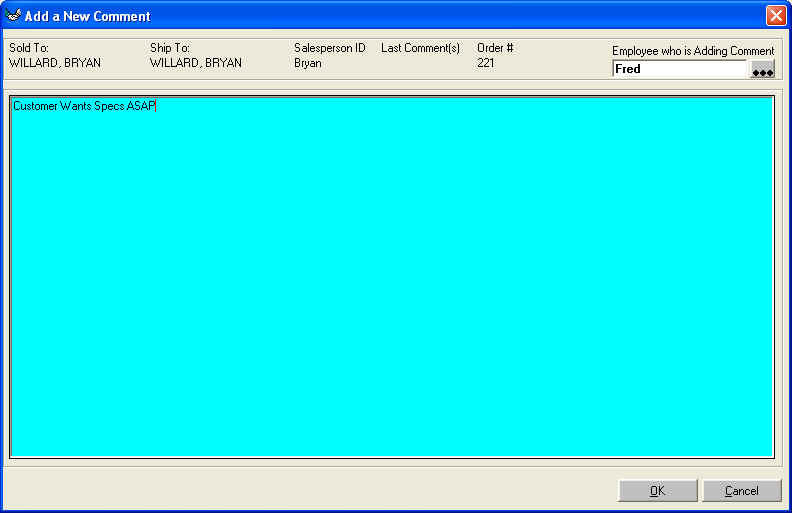 Notice in the Upper right hand corner of the screen 'Employee who is adding Comment' if this employee is different that the salesperson assigned to the order it will send an I-Mail to the salesperson. Therefore Fred takes the message on Tuesday and is off on Wednesday. Sally comes in Wednesday Morning and sees that she has a new I-Mail message about 'New Comment added to Order 221'. She can read the I-Mail 'Customer Wants Specs ASAP' she can drill down from the I-Mail to the Order and accomplish the tasks she needs to accomplish.